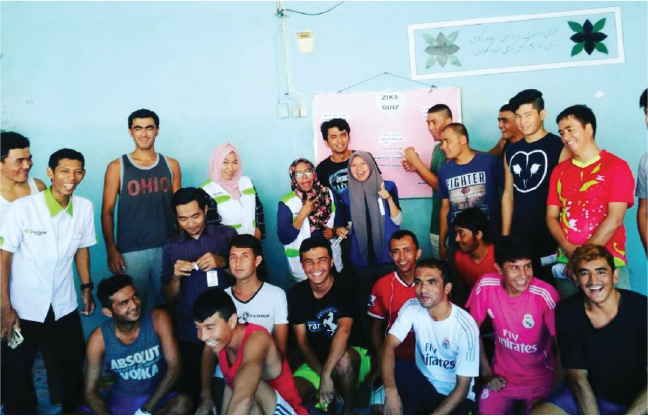 International Organization for Migration – Indonesia: Preventive & Promotive Program, Important Factors in Improving the Public Health Degree
The International Organization for Migration (IOM) is an inter-governmental organization engaged in immigration. IOM is dedicated to promote humane and orderly migration for the common good, carried out by increasing understanding of migration issues to ensure the welfare of migrants, including their families and communities.
Challenge
As the United Nations Agency for migration, IOM works with the Indonesian government to have a role as a protection vessel for migrants. IOM adopts a rights-based approach, which emphasizes enhancing the dignity of refugees and asylum seekers, welfare, and respecting their rights.
Our Steps
CSF and IOM carry out program strategies through a family-based community approach. The family approach is our step to facilitate access to health services to the smallest unit in the community that has a strong influence on individual development.We conduct family visits in the context of health promotion as a promotive and preventive effort to improve public health status, in this case IOM refugees also increase family level strengthening in health care and health maintenance.
Results and Impacts
CSF and IOM measure program outcomes by direct interviews with beneficiaries. Techniques for processing and analyzing beneficiary data, both in writing and interviews, are reliable tools
The following preventive education programs and promotive of impact interventions :
1. Increased awareness of beneficiaries about the importance of health.
2. Increasing the knowledge of beneficiaries and their families in the aspect of health care.
3. Implementation of distribution of healthy supplementary foods for the elderly and toddler.
4. Increasing the degree of health in the form of disease prevention, recovery and improvement of health.
5. Regular home visits for elderly people with limited activities.
Lessons to be learned
The implementation of the program rolled out with IOM provides broad meaning in health interventions in the aspects of health prevention and promotion. Some important points that we underline as provisions for implementing the program with partners is:
The concept of implementation starts from the smallest unit, through the family approach, to integrate individual health efforts (UKP) and community health efforts (UKM) on an ongoing basis starting from the family.
Health empowerment is very important to do so that beneficiaries can feel directly involved in the program that being implemented and feel the sustainable impact of the aspects of health prevention and promotion.